吳寶春麥方店 Wu Pao Chun Bakery @ Taipei

I began noticing master boulanger 吳寶春 Wu Pao Chun when he first appeared in one of my favorite Taiwanese forum talk shows 新闻哇哇挖 upon returning to Taiwan, after winning the prestigious Coupe du Monde de la Boulangerie aka Bakery World Cup in Paris five years ago. Since then, he has been hailed as a 台湾之光 "Glory of Taiwan" alongside acclaimed director, Lee Ang, an honour accredited by the local Taiwanese press to their fellow countrymen who had achieved worldwide recognition and acclaim of sorts. This does not come easily for anyone from Taiwan, a country which has yet to be formally acknowledged by UN, and whose existence is constantly under pressure and threat across the straits from Mainland China. Since returning to Taiwan, Wu set up his first artisan bread bakery in Kaohsiung before opening another in Taipei the next year. Our previous trips to Taiwan had always been filled with pastries and cakes more than anything else, so for our most recent trip, we finally decided to make our way to Wu's bakery located at Eslite Spectrum Song Yan Store.

The name Eslite should be familiar to book lovers and bookworms alike. The highly successful bookstore chain has outlets all over Taiwan and over recent years, they have extended their bookstore image and begin venturing into lifestyle concept stores and even hospitality. One of their latest projects is Eslite Spectrum, located at 松山文创园区Song Shan Cultural and Creative Park in the defunct 松山菸厂, previously an old tobacco processing plant which had been repurposed into a event venue for artistic and culture-related activities. Wu Pao Chun's Bakery Store is one of the anchors located at B2 level of 誠品生活 Elite Spectrum, a shopping mall which also includes a cinema airing arty films .


Eslite Spectrum opens promptly at 11am everyday and so do the stores within. We arrived on a cold weekday morning around 15 mins prior to opening to discover that we were not the only ones there already. "Early shoppers it seems, " we thought to ourselves, only to realise that these early birds like us are here for one sole purpose.


As the main glass entrance into the building was activated, everyone awaiting entered swiftly and made a beeline for the basement via the escalator. Many of them were "veterans" who already knew their way around well were ahead while other "first-timers" here like us could only following our nose, smelling the excitement in the air. There was already a queue line made out of cordon rope at the entrance but luckily we were here early and didn't to queue. While we walked around the small store, carefully scrutinising every bread and bake on the display racks, some people were already busy piling up their bread trays. The experience was astounding, brought in sight and smell as we admired every beautiful crafted bread like an artisan masterpiece while taking in the wafts that permeated the store, a melange of the aroma of sourdough with the richness of butter.


Pain au chocolat, in an alluring golden brown..


Croissant au amandes, one of my all-time favorites…


Rye bread with nuts


Brioche au chocolat with beautiful cracking.


Linseed and Cranberry Bread with very beautiful scoring.


Oven times for their breads are staggered and popular items are made and rolled out several times a day. This is to cater as much as possible to everyone, so as to prevent disappointment, as we were told. Just like when we first arrived at 11 am, the "champion bread" for 2010, 荔枝玫瑰麵包 Litchi and Rose was not out yet but his 2008 second prize masterpiece "Fermented Glutinous Rice and Dried Longan Bread" are already on the shelves.


A loaf of "Litchi and Rose" costs a whooping NT350, just like the "Red Wine and Dried Longan Bread", making them the most expensive bread in his bread menu. Despite the price, the demand of them are extremely high as they were snapped up fairly quickly the moment the warm loaves made onto the shelves. We took one for ourselves of course.


Apart from breads, Wu also carries a small range of jams made by the local Taiwanese. Since returning to Taiwan, Wu has been a fervent supporter and advocate of their local produce. As much as possible, he incorporates their local familiar taste into many of his creations. This is worth commendable indeed.


There is also a small corner showcasing Wu's publications, including the most recent recipe book where the recipes of his competition pieces are published. This explains the numerous copycats we saw in various run-in-the-mill bakeries all over Taipei.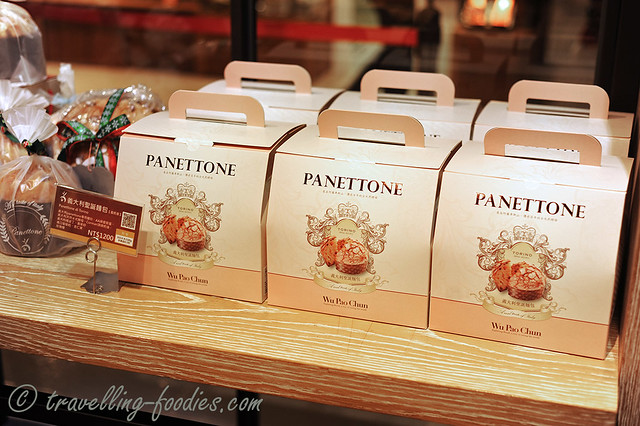 Panettone was also available during our visit, made from the a tradition Turino recipe.


Green Olives Bread made with fresh Hoshino yeast.


凤梨酥 Pineapple Cakes, a petit four sec which is highly popular in Taiwan as an omiyage but what intrigued us more is the name "無嫌" Wu Shian. We got to know later that these pineapple cakes are named as a tribute to Wu's mother, Madam Chen Wu Shian. "Wu Shian" in Taiwanese dialectal tongue read "boh hiam" to mean being non-discriminatory and all encompassing. I guess there is a philosophical aspect of Wu's pineapple cakes than the others… or so it seems.


Like his flagship bakery in Kaohsiung, there is a view of the atelier-cum-kitchen where one can see Wu's team of in-house bakers and apprentices at work.  Here they are preparing batons of baguette on the conveyor belt to be rolled into the commercial oven for the final baking.


Home bakers and baking enthusiasts could take the opportunity to learn a few tricks or two from them!


There is no seating facility within the bakery but thankfully, there are plenty of benches and wooden tables within the Song Shan Cultural and Creative Park for us to enjoy the breads.  Couldn't wait to try the champion loaf and indeed it was probably everything one would imagine from a masterpiece worthy of a world champion. The lovely aroma was apparent from the point we left the bakery which lingered on even after we walked around Eslite Spectrum for quite a while before settling down at one of the benches outside by the lake. The crust was beautifully crisp which contrasted well with the fluffy yet well-structured interior. Texturally, the bread was enhanced with toasted and chopped up walnuts, seemingly a favorite ingredient for Wu as we can't help but notice its presence in several of his pieces. Dried lychees was another highlight of this bread. While we are used to seeing dried longan as part of the repertoire in Chinese cooking, lychees seldom make their presence in traditional chinese dishes be it sweet or savory. Prima facie, they are somewhat similar to dried longan but provides a different form of sweetness which deviates from what we are accustomed to tasting, presenting itself quite prominently in Wu's piece as the notes develop with each bite. The use of organic rose petals is another interesting inclusion in this award-winning piece, whose floral fragrance was gentle but assertive at the same time in an non-obtrusive manner. It hovered amidst the other aromatic hues which included the nuttiness of the walnuts and the fruitiness from the lychees, lending a much refreshing tone which rounds up the entire experience in a very pleasant way.


Apart from the champion bread, we also selected 3 other pieces, each representing a particular aspect which an Asian artisan boulanger like Wu should have in his repertoire. We chose a croissant au amandes, which is classically French, an "azuki an pan" which has its Japanese influences and a spring onion sweet bread 葱仔面包 which is a childhood taste for all Taiwanese locals, including Wu himself.
Wu's rendition of the almond croissant is much better presented than other versions we had tried before which look more drab in comparison but no less delicious. Well, almond croissants are customarily made from day-old croissants anyway, with the creme au amandes filling breathing new life into these buttery breads which had gone past their prime. Wu's almond croissant was good to say the least, with the right ratio of filling and bread. Some we had were either too stingy or too zealous with the filling. The pastry was still crisp and aromatic of course. Hardly anyone uses stale croissants to make these delectable pieces anymore I think.
The azuki an-pan was also very good. The sweet bread was soft and fluffy with an intermingling of aromas from the bread itself as well as the maillarded exterior which browned beautifully. A little hole was created on the top, similar to many an-pans we had seen in Japan to allow steam to escape as the red bean filling would have retained quite a fair bit of moisture in it. The red bean filling is not overtly sweet, unlike how it is made traditionally but in a good way. The cooked beans were also not pulverised until uber smooth, in other words beyond recognition which I thought is a subtle but important detail for good tsubu'an.
I look at the spring onion sweet bread with much anticipation. The texture is even softer than the an-pan with a thin custardy layer being applied on the surface for the chopped spring onion to adhere onto. The flavours are interesting, with a mixture of sweetness and spiciness from the partially cooked spring onion. For anyone who's not tried it before, I think it would be a good chance to try.


We also bought a piece of his "Wu Shian" Pineapple Cake to try. Unlike traditional Taiwanese style pineapple cakes which are usually somewhat oblongish, Wu's pineapple cakes are cylindrical. Appeal aside, I must say that the pineapple cake didn't do very much for me. The pastry was too thick, especially around the edges and it was somewhat too dry as well. The filling, was also quite monotonously sweet, unlike what was being described as "sourish-sweet", a flavour reminiscent of how pineapple cakes were made in the 1950-1960s. Call me old school but I do prefer pineapple cakes with a prominent sourish taste amidst what is required to be sugary but never in an excessive way. I still pledge my allegiance with 微熱山丘鳳梨酥 Sunny Hills, but always welcome any potential good pineapple cakes to come in the future.
I would really recommend anyone who wishes to try good breads in Taiwan to visit Wu Pao Chun Bakery. Thanks to him, the standards of the boulangerie scene in Taiwan has really greatly improved over the last half a decade. I admire his spirit to promote the goodness of the local produce through his creations, and his humility at the same time, constantly stating that his success today would not have been possible without the help and support from all these locally grown and produced ingredients which had been graciously made available to him. With that, he reinforce that what he has achieved today is not solely his own but the pride and glory of all people of beautiful Taiwan. Truly worthy of a 台湾之光…
吳寶春麥方店 Wu Pao Chun Bakery @ Taipei
No.88,Yanchang Rd., Xinyi Dist., Taipei City 110, Taiwan
9 responses