南機場夜市 Nanjichang Night Market, Taipei

To experience truly Taiwanese food and pop culture, one must surely pay a visit to their local night markets. Some even say that going to Taiwan without a firsthand experience of their local night markets is like not having been to Taiwan at all. I definitely agree with that. To many Taiwanese, night markets are where they take care of their daily needs. This is especially so for the those who work from dawn till dusk, and have to settle their meals mostly outside. This is analogous to our hawker centres and more currently "food courts" here in Singapore, but it is not just the tummies that are taken care of here, as Taiwanese can buy practically everything they need at home here from stationery to toiletries. As such, there are night markets everywhere in Taipei, but we only visit a selectively few and 南機場夜市 Nanjichang Night Market is one of them.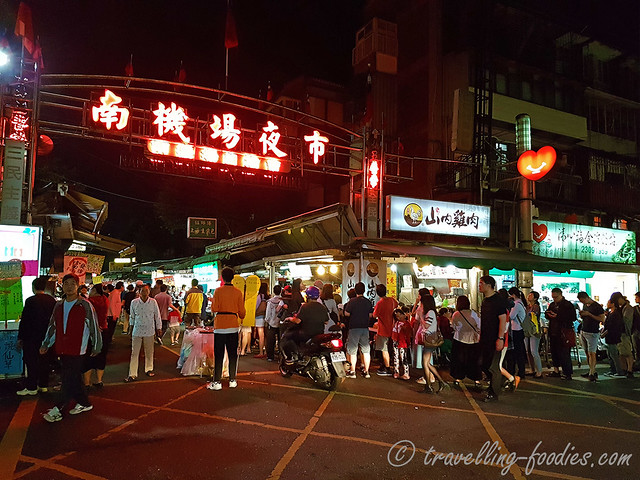 There are essentially two different types of night markets here in Taipei. The first kind are those which are deemed as 觀光夜市 "tourist night markets" where the local administrative authorities have done some work to "upgrade" the existing night market, such as to designate and cordon off "pedestrian only" walking areas where driving traffic is prevented from passing through making the "walking experience" a more pleasurable one. 士林夜市 Shilin Night Market and 饶河街夜市 Raohe Street Night Market are such examples. Because of the government's efforts to promote local food culture in order to attract the tourist dollar, we'd seen foreign visitors, especially those from across the Mainland being transported to these night markets and unloaded here tourist coach after tourist coach. As such, many of these night markets have become very much "focused" on catering to the needs of these tourists and ironically,  much of their "local flavour" becomes diluted.
We very much prefer the latter type of night markets where 在地人, i.e. the locals visit for their daily fare, which offer a real glimpse on the kinda food which they truly enjoy. Yes it is "messier" and while cars try to avoid, we will still see the occasional local resident in his/her motorbike trying to plough through the already narrow and crowded lanes to get back home or to buy a 药炖排骨 takeaway from his/her favorite stall as dinner back home. Yet such "inconveniences" we can most definitely bear with, as long as the food remains true to palates and of course, the hearts of the locals. And this is precisely why we love visiting 南機場夜市 Nanjichang Night Market, for its "ruggedness" untamed and untainted. When we first asked about 南機場夜市 Nanjichang Night Market from our friends in Taiwan and even the concierge staff of the hotel we were putting up at, we were quite surprised that not everyone knows about this place. When we first visited many years back, we were literally the only "foreigners" around, surrounded by locals, and mainly those who lived in the vicinity.
As its name suggested, this place was a military airport long long ago, when Taiwan was still under the Japanese colonial rule, an "airport" in the south in contrast to 松山機場 Songshan Airport in the north bordering 内湖 Neihu. It is nested within the 馬場町 "Babacho" area as this place as once known, a military training ground, with the nearby river an execution site, where the 青年公園 Youth Park currently stands. Yes you "heard" me right. This was a place where "rebels" to the Japanese where "finished off" and either dumped into the river or carted away and hastily buried en masse in an utmost unceremonious manner in 六张犁. Anyway, I have digressed. When the Japanese retreated after 1949, this place became a dumping ground for rubbish and a slum for shady folk who spilled over from nearby Wanhua district which was more commonly known as Monga 艋舺, a rathole for street gangs in the past. In an effort to "clean up" the area, the government cleared the slums and old infrastructure left behind by the Japanese, and in its place built the very first 國宅 government public housing program here, which is what we see today as 南機場公寓 Nanjichang Apartments which still stands. Now that we are done with the brief history, let's get on with the food!


As you reach the night market, you will first be naturally drawn to the stalls that flank the two sides of the "kanbang" i.e. the colloquial way of saying "signboard" here in Taiwan adopted from the Japanese. 山內雞肉 is an extremely popular stall on the right which sells uber tender poached chicken to go with rice. You cannot miss it as the queue often meander all the way onto the main street. Folks recommend getting a whole chicken thigh with drumstick to share over two bowls of rice, or if you wanna save your tummy for what the rest of the night market has to offer, perhaps sharing one bowl of rice is enough, not forgetting a bowl of 桂竹笋 bamboo shoot soup to go along.


On the left is 曉迪筒仔米榚, "tang'ah bee koh" a glutinous rice dish especially popular in southern Taiwan. It is usually sold together with 排骨酥 soup which is essentially pork ribs which have been marinated, deep fried and then cooked into a clear soup together with wintermelon or taro. I remember vividly eating my first 筒仔米榚 more than 10 years back in 永和 Yonghe. It was a cold and rainy day in wintery January when the piping hot soup and glutinous rice dish were literally lifesavers against the brutal weather.


基隆黑輪 is yet another popular stall in this night market with diners often having to wait for a seat. No it doesn't sell "black wheels" literally, as 黑輪 "oh len" is actually the local way of pronouncing the Japanese 関東煮 "oden" and like the name, the dish has also been localised to include some exclusively Taiwanese ingredients as well, such as 猪血糕 and 鸭血. Super yummy!!!


好吃炸雞 Yummy Fried Chicken, true to its name is one of our favorite stalls as well. While many folks come for their gigantic fried chicken which we feel is even better than the famous one in Shilin Night Market, I personally love their fried chicken wings which are so crisp on the outside but incredibly moist and succulent within. At only NT20 a pop, it is so hard to stop at only one! If you are game enough for parson's nose, do try their deep fried version. And it has such a poetic name, 七里香… anyway, I'd digressed again…


Local nightmarkets such as nanjichang are mostly known for their relatively cheap food fare, literally paid with just coins and thus the name "铜板美食" and this stall that sells chargrilled items is definitely one of them. The cheapest choice is only NT10 which is less than 50 cents over here!


And speaking of super popular dishes, 阿男麻油雞 defintely ranks high on the list. Unlike most stalls are opened by 6 pm, this stall opens relatively late only when the sun sets and yet, there is often already a queue forming next to it even when everything is still dark and the hawkers yet to arrive! The queue gets even longer during the cooler months when everyone craves for a bowl of sesame oil chicken soup to warm the bellies.


美蘭阿姨 is one of the few fruit juice stalls within this night market but despite the stiff competition, she remains highly popular. Try their 木瓜牛奶 and you will know why, so thick and rich. There is even an option to go without ice at no additional cost for maximum enjoyment of milk and fruit.


好佳蚵嗲 is one of my personal favorite. Their fried oyster cakes are what most folks flock here for but their shrimp version is equally good. We'd dined at this stall several times over the years, and the quality of the oyster cakes remain fairly consistent although one thing noticeable is the shrinkage of the size of the oysters used. Nonetheless, their oyster cakes are still one of the best we'd eaten in Taiwan.

I especially love watching how the oyster cakes are made, taking the opportunity to learn a thing or two from just observing. They are really generous with the filling, piling the chopped vegetables really high before sealing it with a viscous batter.

One thing which really makes their oyster cakes outstanding is their chili sauce which compliments the oyster cakes really well. It is spicy, sweet, sourish and savory all at once, with a hint of shrimp paste which is not unlike belacan. The best is still to eat them fresh immediately at the available seating area behind the stall.

The 上海生煎包 stall is another which draws a huge crowd everytime we are there. Prices have increased steadily over the years from the initial 10 NT a pop to the current 14 NT with the "buy 5 get 1 free" promo. Still it remains highly affordable and high "CP value" as their buns are noticeably larger than those from other joints. The buns are rather chewy with a yummy filling that is oozing juices with every bite. Highly recommended…

This is yet another "old stall" here at nanjichang night market. At only NT20 for a small serving, I really urge all those who haven't to try. Pig's Blood Glutinous Rice Cake really doesn't taste even half as vile as it sounds. Instead, I find the combination of chinese parsley and chopped peanuts really yummy.

While some of the stalls open only in the evenings, some are open throughout the day, like this noodle shop that specialises in Foochow aka Hock Chiew cuisine.

J had 福州鱼圆汤面 Foochow fish ball soup noodles while I had 麻酱面 dried noodles tossed in sesame sauce. The latter is actually a misnomer as the sauce tasted more of a savory peanut butter paste than sesame but still rather yummy! We ordered a bowl of 扁食 "pansip" dumplings to share and a plate of braised offals and egg as well.

During different times of the year, various food stalls are "favoured" than others. Like in the cold months, folks love to eat 碳烤玉米 grilled corn. Unlike some other joints I'd seen which uses an electric stove, this vendor at nanjichang night market still continue with the tradition of grilling corn over a charcoal stove…

And here's something really interesting which we would never see in Singapore, grilling sugar cane before juicing them. Not sure if it is my own psychology playing with my senses, but the process seemed to take the sweetness of the juice a notch higher. One thing though, is that warm sugar cane juice takes a bit of getting used to…

After been colonised by the Japanese for such a long period of time, Taiwanese food culture is dotted with reminiscence of Japanese food fare. 車輪餅 is a good example, a spinoff of the Japanese imagawayaki. Unlike the Japanese version where the batter becomes a soft and fluffy cake, the Taiwanese version uses the batter to only a thin casing to be used to pack a crazy amount of filling. In fact, the vendor usually use a wooden rod to circle the insides of the cavities after piping in the batter to ensure that the batter evenly coats the vertical walls of the mould as thinly as possible to make way for the copious amounts of filling to follow. Speaking of filling, the Taiwanese versions are also incredibly creative with the variety of filling available. Apart from the standard red bean and custard cream, there are also lots of savory ones with julienne daikon being the most popular, followed by tuna, mixed vegetables etc.
On one of the lanes alongside the main street of the night market, one would be quick to notice an interesting sight, a battleground of 3 shops almost adjacent to each other selling 餃子 Chinese dumplings. There is 秀昌水餃,来来水餃 and 阿亮水餃. Despite the fierce competition, these three shops co-existed rather harmoniously although not all the time. Yet all of them are usually packed with diners during meal times, having their own faithful following of loyal customers. Most folks order the same thing, i.e. a dozen or two of dumplings, and a bowl of spicy and sour soup to go along, not forgetting the garlic pips on the table to round off the whole dumpling experience.

And this is 来来水餃,with all their tables occupied and a long queue outside waiting patiently for their turn.
In one of the quieter lanes, one would find 松青潤餅 which I'd eaten several times as well. The stall used to be helmed by the middle-aged gentleman on the right of the photograph above but this year, I'd noticed that he'd passed the baton to his son who takes care of the making process, while the elderly couple play an auxiliary role to help prepare the skin and filling up the various condiments and ingredients instead.

And true enough, the son having learnt the ropes from his parents did not disappoint, able to helm the role with much ease, prepping up to 8 rolls at one go to meet the demands of the folks queuing. Although the process of making 潤餅 looks rather simple, it is by no means an easy feat. While the variety of ingredients in our local popiah have dwindled over the years, its good to eat that the Taiwanese version still maintains more than half a dozen other condiments apart from the main filling cooked with cabbage and carrots. Below is a video which I told of the son making a round of loon piah. The flavours of their version is more "delicate" than ours here in Singapore, which I'd kinda taken a liking to. Do give it a try to see if you like it as well.
And finally after you have eaten your fill at the various eateries and stalls, do remember to pay a visit to 永康街芋頭大王. I love to order a bowl of ice and select our own favorite toppings. A huge bowl of ice with 4 generous portions of toppings cost only NT60 and is enough to feed 2 or 3. Their candied taro is very very good here and a must order for me every time i visit。 Their 芋圆 taro balls is quite good too though I must say I have had better elsewhere. I noticed that a lot of folks like to order barley though I'd not gotten round to try it myself. Perhaps next time!

They have a really wide selection of toppings to choose from from the traditional ones like candied taro and red beans to more funky ones like tapioca black pearl and mixed coloured jelly. Spoilt for choices literally!

,
And just when you thought you'd had enough, remember to pack some snacks like 車輪餅 to munch on. There are quite a few stalls around and our favorite is actually not the one shown earlier but this one, a makeshift stall within one of the quieter lanes with a red and blue signboard "南機場車輪餅". It is managed by an old lady who is crazy generous with her filling. Yet they are only NT10 each! I really wonder how she manages to earn anything out of it. So please, if you do see her stall next time you visit 南機場夜市 Nanjichang Night Market please remember to give her your support!
南機場夜市 Nanjichang Night Market
台北市中正區中華路2段307巷至315巷間
To get here, take bus no. 212 at the bus stop outside Taipei Main Station (Zhong Xiao) or bus 204 along 东区 (zhongxiao fuxing or zhongxiao dunhua) in the direction of 青年公园 Youth Park and alight at 南机场公寓 Nanjichang Apartments stop.