There are many dishes which one can immediately draw parallelism to Peranakan culture, signature dishes which form the core of what is understood by many as "Straits Chinese cuisine" today. Babi Pongteh, Sambal Jantong Pisang, Ikan Gerang Asam, Kuah Hee Pio or even simple day to day dishes like Telor Tempra and Pong Tauhu just to name a few. But the one true dish which is quintessentially Peranakan must surely be Ayam Buah Keluak. It is THE one dish which many have heard of, being curious about, tried before and perhaps can even relate to. I'd wrote about it twice on this blog, here and here, and also a masterclass I'd attended before out of curiosity, not to mention talk about it on countless occasions, so here is it again, a refresher discussion on this "ambassador dish" that bridges and opens the gateway for anyone who seeks a more in-depth understanding into the culture.
---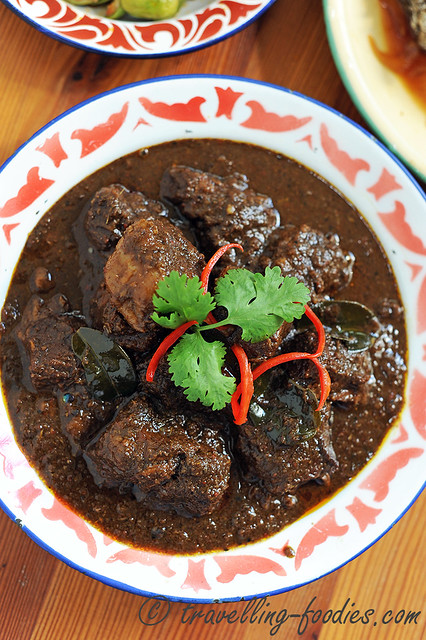 Rawon is a classic East Javanese dish which either you're gonna love or loathe. It extracts its unique flavours from the use of the "Indonesian black nut" commonly known as "buah keluak" or "kluwak/kluwek", or more scientifically Pangium edule. In Singapore and Malaysia, buah keluak is better known as part of a signature dish in Peranakan cuisine "Ayam Buah Keluak" to which it lends its name. In fact, the recipes are so similar that I would like to think that one is necessarily evolved from the other! So if you love Ayam Buah Keluak and like to give it a little twist by using beef instead of chicken, Rawon is definitely the dish for you.
---

Ask any food lover for the Peranakan cuisine and they would surely babble ceaselessly and incessantly about their "favorites"! From simple kerabus like Sambal Belimbing Timun Nanas to the more elaborated Sambal Jantung Pisang, from the delicately flavoured Bakwan Kepiting, to the robust and full-bodied Buah Paya Masak Titek, from the popular Babi Pongteh, to the elusive Babi Tohay, from the healthy Nyonya Chap Chye to the not-for-the-faint-hearted Hati Babi Bungkus… the list just runs on and on, and I'm sure the rattling would too! And this doesn't not even include an equally, if not even more comprehensive list of sweet and savory desserts, snacks and nyonya kuehs! Clearly one could not settle with just one, and I'm pretty sure he would not bear to, but instead, produce a collective "menu" , often macam panjang panjang, of dishes close to one's heart. Sounds like much of an oxymoron I know, but that's just one of the many dilemmas of a Nyonya foodie!
Ask again, for one single signature nyonya dish, and the options often narrow down to an invariable small range of dishes. And the name that would pop up most frequently has to be Ayam Buah Keluak!
---