Kueh Belanda – Kuih Kapit : Nyonya Love Letters

Life is basically about a sequence of happenings and experiences, episodes that unfold around us all the time. It can be as uneventful as queuing for one's favorite nasi lemak or mundane as waiting for the bus or MRT. Yet there are things which leave an everlasting imprint in us, conjuring a powerful memory which we may not even revisit for the longest time, carefully stowed away deep within each of us until one fateful day when the memory is retrieved and unbound from the abyss of our consciousness, invoking a wave of emotional recollections, often accompanied by a profound sense of nostalgia. As I grew older and hopefully wiser, I find myself walking down the proverbial "memory lane" more often than before. Sometimes the smallest triggers, deja vus from a not-to-distant past can rouse and unleash an avalanche of reminiscence. Perhaps this is what folks often call being "sentimental"… unwitttingly and unknowingly. For me, making kueh belanda surely counts as one of these things, and I'm sure it is the same with my friends too, as four of us got together to make them very recently. It was a really tiring and back-breaking process, but I'm glad I did it again after a hiatus of more than 20 years. Mummy would have been proud…



When I was very young, I'd watched my grandmother, aunts and my mum make kueh belanda over a charcoal grill just along the corridor outside my grandparents' flat. It was a sheer exhibit of teamwork as some would be in charge of pouring the batter over the moulds, while others would do the watching over and scrapping the edges of the moulds to remove the excess batter and of course to roll the love letters when they were freshly out from the moulds. It was a feast of sight, sound and smells! They worked with clockwork precision, each "manning" their own designated task well, yet being able to chitter chatter and make small talk about the latest "market gossips" they have garnered. And of course, the unmistakable aroma from freshly charcoal grilled kueh belanda, my oh my… is so strongly imprinted in my memory that I hardly eat the store-bought ones anymore even as my family stopped making them after Grandma passed away.


My mum tried to make kueh belanda outside our own flat, "recruiting" my younger sister and I as part of the "kueh belanda team" when we were very young. We used the grill and moulds passed down from my Grandma as my aunts did not want to make them anymore. But we two younger ones had zero hands on experience making it of course, despite watching the adults at it umpteen times, making the already arduous process even more laborious and tiring, not to mention being all hot and sweaty sitting in front of that grill for hours at ends and burning quite a number of pieces along the way. My sister and I refused to make love letters again after that. The grill and moulds were kept away in the storeroom, forgotten and eventually discarded when we moved house. Of course then we didn't understand the "importance" of kueh belanda to us…


The moulds I have now are from a good friend, old moulds which he had collected. As his family too does not make  kueh belanda anymore, he passed them to me, as he had good faith I would be able to put them to use one day. Yet I still feel very sore about discarding of my family's own set of kueh belanda moulds, together with others for making kueh bolu etc. And I think this is a commonly experience which many folks of my generation went through, seeing our heritage and cultural bearings erode silently without even realising it. Hopefully it is still not too late…


Anyway, let's talk about the making process. The painstaking task of making kueh belanda begins with squeezing freshly grated coconut. Be sure to use freshly grated coconut whenever you can and not those in tetrapaks or cans off the supermarket shelves. Trust me, the taste and more importantly aroma freshly squeezed coconut milk impart unto the kueh belanda are far more superior than those made with pre-fabbed ones. If you are lucky, your grated coconut seller may have a machine that would do the squeezing for you, otherwise do it the traditional way of using a muslin bag or like us, a potato ricer over a fine-wired sieve. The latter is almost effortless compared to squeezing  the grated coconut in a bag or with bare hands. Trust me, we learned it the hard way.


After the coconut milk is processed, the batter can be made. Using a stand mixer with a balloon whisk would be ideal. Otherwise a handheld mixer or even manually whisking it is also fine as the process only requires one to make sure that all the sugar and salt are well dissolved into the batter. It would be easier if the eggs were at room temperature of course. After the sugar has dissolved, coconut milk is added, followed by the flours. A quick and good mix to get everything homogenised and the batter is ready to be used.


The technique of "flooding" the moulds with batter is important to get each love letter thin and crisp. The pre-heated mould has to be placed over the mixing bowl tilted while a generous ladle of the  batter is being poured over the surface. Upon contact with the hot mould, the batter begins to cook almost instantaneously, producing a soft hissing sound which develops into a whistle as the mould is closed. This "pre-cooking" process ensures that the batter clings onto the mould when it is well heated. Tilting the mould allows any excess batter to drain back into the bowl thus ensuring that a thin and uniform coat of batter remains on the surface of the mould which in turn produces uber crisp and thin love letters. This is something which one make have difficulty replicating with those electrical moulds fashioned like waffle makers, not to mention the aromas from a charcoal grill.


The setting up process for the charcoal grill is yet another "pain". Thankfully it didn't take too long to get the fire going. But the "proper" way of making kueh belanda is actually over hot cindered charcoal where one can barely see the flames. So it is important for someone to watch over the grill constantly to know when to add more charcoal. Intuition will tell you if the grill becomes insufficient hot when the heat dies away as the batter in the moulds would take progressively longer to cook…


Be sure to scrape the sides of the mould with a butter knife to remove any excess batter which may have seeped through. If the flooding of the batter was done properly, there should be hardly any batter to scrape away but having a butter knife is handy nonetheless. In the past my aunts willed a paint scrapper for the task. Whichever that works…


Immediately after the love letters are beautifully grilled to a light golden brown, they have to be rolled or folded very quickly. It is a pity that the motifs on these lovely moulds imprinted onto the kueh belanda can no longer be admired…


The rolling process also requires some practice. The freshly grilled kueh belanda has to be rolled very quickly, within the initial few seconds after it is removed from the mould. Otherwise it would crisp up very quickly and cannot be handled anymore. This is when we children are the happiest as we get to snack on these "factory rejects" which are deemed too ugly to be served to visiting guests during Chinese New Year. As such, we were not allowed near the "work station", only being able to observe from a safe distance. Even though the adults told us that the grill and moulds are very hot, we all know now that it is our "kueh belanda pickpocketing" they were guarding against…


The love letters can also be folded instead of being rolled of course. It seems like the Malays who call the love letters "kuih kapit" are more in favour of the former while the Peranakans prefer to do the latter. We never had the folded ones when I was young. It was always rolled which my cousins and I would fool around with, using them as "cigarettes" by clasping the kueh belanda in between our small fingers mimicking my uncles and Grandma smoking, much to the dismay of my mother of course, but to the amusement of the other adults.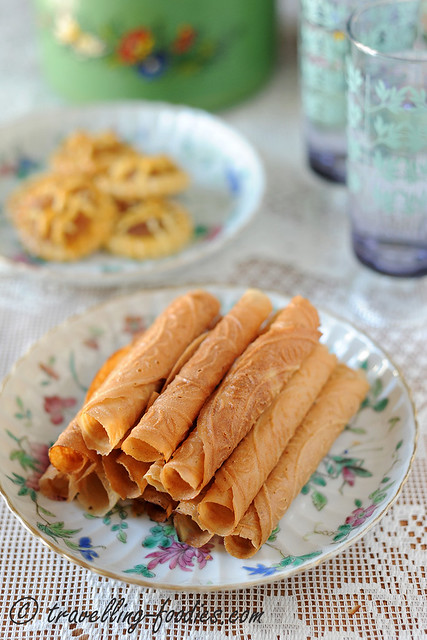 Yes it is going to be a long and tiring process. But at the same time, it would be fun and very fulfilling, trust me. The feeling of enjoying our very own homemade kueh belanda is something which I remember vividly despite not having made or seen them being made for the last 20 over years and would definitely continue to remember for a long time to come. Make them with loved ones and good friends, so that despite the long hours in front of the hot stove, there will never be a dull moment. And make them with your kids, so that they could better appreciate how these delectables were traditionally and painstakingly made, in hope that it would get them interested in the kueh making process and the cultural significance it entails, just as our mothers and grandmothers had inspired us.
Kueh Belanda – Kuih Kapit : Nyonya Love Letters Recipe
makes about 80 pieces

Ingredients
250g rice flour
50g tapioca flour
320g caster sugar
400ml fresh coconut milk, first squeeze only
1 tsp salt
10 large eggs (about 60g each), or 11 medium eggs
1 tbsp cooking oil (for greasing moulds the first time)
Method
To a mixing bowl, add eggs, salt and caster sugar. Whisk at medium speed until the sugar dissolves.
Add fresh coconut milk and whisk for 20-30 seconds or so.
Add rice flour and tapioca flour and mix well, remembering to scrape down the sides of the mixing bowl at least once during the mixing process.
Strain the mixture over a fine-wired sieve into another mixing bowl to remove any flour lumps, unbeaten egg. Set aside while the charcoal grill is being prepared.
Heat the love letter moulds over a heated grill until hot.
Open the mould above the large bowl of batter, grease both interior sides very lightly with cooking oil and tilt to the mould side to allow excess oil to drain away. ***
Pour batter over to tilted mould and flood it with the batter once or twice to get a good uniform coat. **
Allow most of the excess batter to drain back into the mixing bowl before closing the mould and place it back on the grill.
Grill the love letter until it is nicely light golden brown. The actual grilling time depends on the temperature of the grill.
While grilling, scrape away any excess batter which had seeped out from the edges with a butter knife.
Once the love letter is of the right colour, remove quickly from the mould and either fold it into quarters or roll it into a thin cigar-like shaped cylinder. This has to be done within a few seconds after the freshly grilled love letter is out of the mould. Otherwise it would harden and crisp up very rapidly as it cools down.
Leave the rolled or folded love letters to cool down to room temperature before storing in an air-tight container. Do not wait for too long or the love letters would soften with the humidity. It takes a bit of experience and practice here.
Repeat the process until all the batter is used up, taking note to stir and homogenise the batter in the mixing bowl thoroughly each time before pouring over a newly heated mould to prevent the flour from settling at the bottom.

*** the greasing process is only done for the first round. Subsequent rounds of love letter making with the same mould does not require greasing.
** If the mould is sufficiently hot, there will be a soft hissing or whistling sound produced as the thin coat of batter begins cook over it immediately as it is being poured over. If the batter does not cling over the tilted mould well, it is not hot enough to be used.
And here are my "kueh belanda making team" – Veronica from Peng's Kitchen, Annie from Annielicious Food and Edith from Rumbling Tummies, baking kakis whom I'd known for quite a few years now. Like I'd said there is never a dull moment with good and like-minded friends around.
13 responses
Pingback: A totally unscientific take on your career prospects according to your favourite CNY snack | Mothership.SG

Pingback: Kuih Kapit/Kuih Belanda – Our Malay Kuih

Pingback: Kuih Kapit – Our Malay Kuih